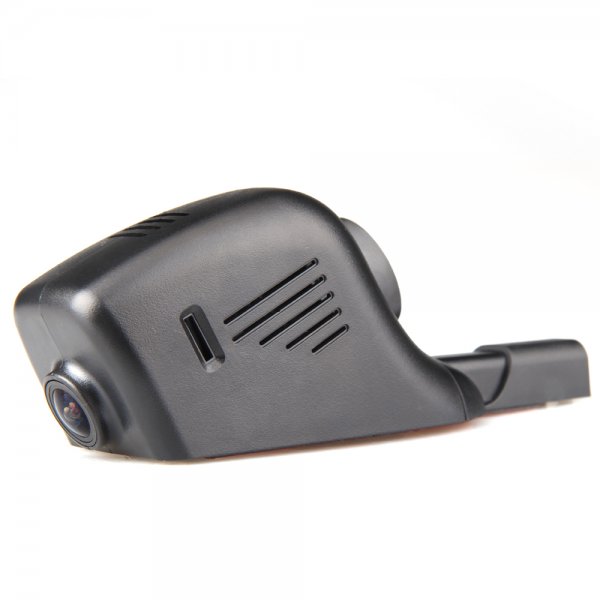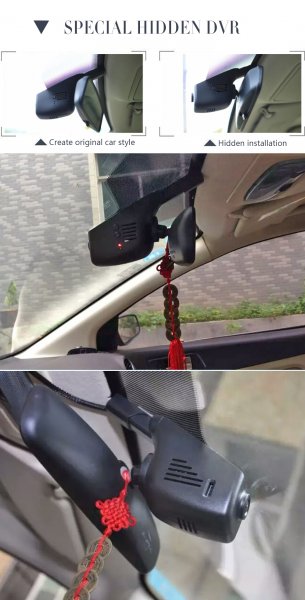 Note: This DVR is special design for Chevrolet SAIL/AVEO/CRUZE 2011 2012 2013 2014 2015, Jeep Patriot/ Compass, Toyota Vios/ Corolla/ RAV 4/ Camry/ Yaris, Lexus ES250/ES30H/GX400, Mazda Axela/CX-5/ CX-7
Please check your mirror holder if same shape with our DVR.
Hidden Installation Design: direct replacement with the original rear view mirror base without any modification and damage to the car. Hidden design on the back of the mirror base can create a better angle for the camera to record the driving situation and provide a better view for the driver to avoid distracting the attention off the lane.
WiFi Function: can connect mobile phone with the built-in WiFi hotspot from the DVR to watch a real time display of the road condition, to download and save the videos to the phone and to share them with others. With an extra video output port, the signal of the camera can be directly transmitted to the car original multimedia DVD system for monitoring
Higher Brightness and Clearer Image: SONYMIX322 image sensor adopted to ensure enough brightness for either at night or daytime to identify any objects ahead; 2.8μm X 2.8μm ultra pixels and 1/2.9 inch light-sensing surface area to keep the sensitivity of light without hot pixel and with a better color reproduction for an amazing effect of the recording
Golden Wide Angle: FOV-H 118 degree to FOV-D 170 degree wider angle to obtain more lanes for the visual angle during recording; provide superior video quality at 30 frames per second in FHD resolution without the frameskip to guarantee a good and stable recording when driving at high speed
Intelligent Automatic Video Saving: built-in three-axis gravity sensors to save videos when it detects an emergency braking and car crash for proof of how the accident occurs and to avoid deleting by mistake or automatic cover once the memory card is used out
Detecting Recording: safer and stabler 12V line to plug directly into the car fuse box for real monitoring when parking. Top and upgraded optical system to gain a better sensitivity for either moving objects or parking recording. Smart sleeping mode without losing power, DVR only be activated when detect shaking and will record a short video lasting for 1 minutes. Sleeping mode will be activated after the process is completed to save the car battery
Better Hardware for Cars: the housing is made from ABS+PP that is from BASF, which is flame retardant, non-toxic and heat resistant. Reach the standard of non-deforming for -20 to 80 degree. Authentic 3M paster to keep the housing sticks to the glass. All material is adopted a standard for Automobile during the manufacture
Specifications:
Photo and video:
Real 2.0M pixel camera
1920*1080P video recording, 30 fps
MOV video format
Re-recording for 3 min/ 5 min/ 10 min
H.264 compress mode
JPEG image format
118~170 real wide angle
F1.8 large aperture
Structure:
BASF ABS+PC PP materials
Joint photo electric 6 glass lens
Built-is microphone
Circuit and Temperature:
Working current: 180MA-220MA
Standby current: 6-12MA
Power supply: 6-25V
Ambient temperature: -20-80 degree
Ambient humidity: 15-85%RH
Storage medium:
Class 10 TF memory card 8G/ 16G/ 32G
Package:
1x DVR
1x manual
1x Car Rover Mobile holder gift
1x 32G high speed TF Card
All the wiring necessary